ABKONCORE CRONOS 710S Mid-Tower Review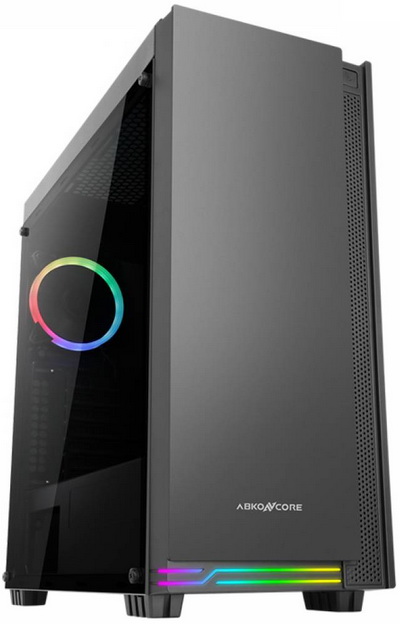 As we've mentioned plenty of times in past reviews there's no end in sight to the number of PC cases with tempered glass side panels and RGB lighting and as expected this is a very good thing for consumers since increased competition automatically means manufacturers have to roll out more models at severely reduced prices. The increased number of models in the market however also means that consumers have a harder time deciding on which one to get and even though it's very easy to judge a PC case based on looks alone other things like interior space and available features also matter quite a bit (if not more for some buyers). ABKONCORE may not ring any bells to most of you reading these lines right now but there's a good chance you've already seen one of their towers somewhere online and since they seem to be expanding to areas like the EU today we decided to take a closer look at their CRONOS 710S Mid-Tower Case.

ABKONCORE is a Korean provider of high performance PC components and gaming peripherals. Many years of professional production experience and strong background of gaming PC components and peripherals which are tested by Korean game enthusiasts and PC cafe users, ABKONCORE is proudly introducing the gaming gears and PC peripherals. In a rather short time of years, ABKONCORE has extended its reach to the global market, having distributors and retailers. There are three different offices: HQ in Seoul, South Korea, Branch Office in Guangzhou, China and European Sales & Logistics Office in the Netherlands.

The three primary selling points of the CRONOS 710S Mid-Tower have to do with its looks and so we're obviously talking about its tempered glass side panel, the front auto spectrum RGB LED strip (fixed cycle effect) and the rear 120mm auto ring spectrum RGB fan. That of course doesn't mean the CRONS 710S is short on everything else so there are also removable air-filters (top magnetic/bottom grille), a dual chamber design and enough room for up to E-ATX sized mainboards, two 3.5" and five 2.5" drives (six 2.5" drives with an optional mainboard tray), eight 120mm fans (or 3x120mm and 4x140mm) and/or two 240/280/360mm radiators (top 240/280mm - front 240/280/360mm), 165mm tall CPU air coolers, 390mm long graphics cards and up to 205mm long power supply units. So, time to move forward with today's review and see exactly what the CRONOS 710S Mid-Tower by ABKONCORE can offer.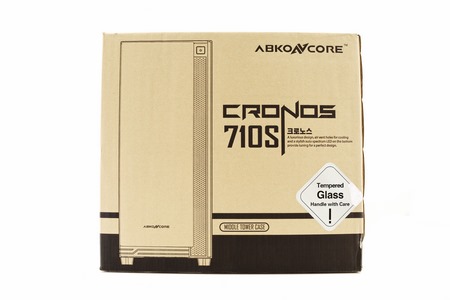 The CRONOS 710S is packed inside a plain cardboard box that has a partial product drawing on both the front and rear right next to the company logo and a tempered glass sticker.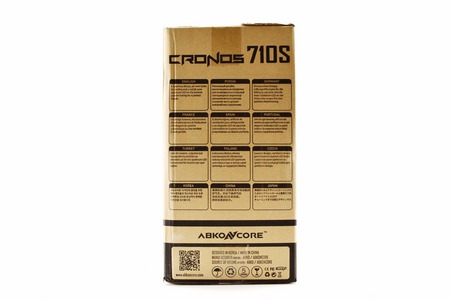 Printed on the left side are the main selling points of the CRONOS 710S in 12 languages.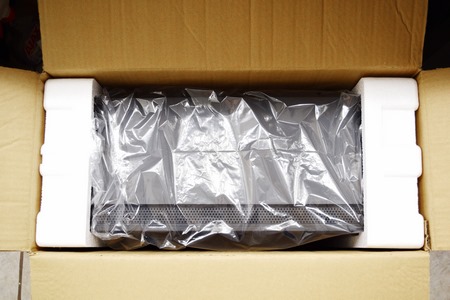 As usual the tower is wrapped inside a plastic bag and placed between two foam spacers.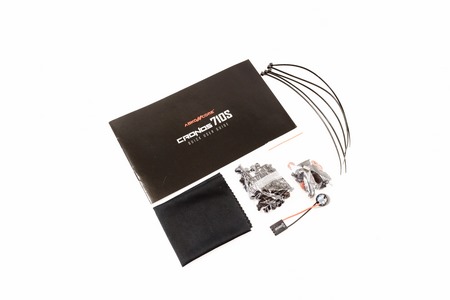 Along with the CRONOS 710S you are also getting 5 cable ties, cleaning cloth (for the tempered glass panel), mainboard speaker, quick user guide and two small plastic bags one with fan/radiator mounting screws and another with mainboard mounting screws, spacers and standoffs.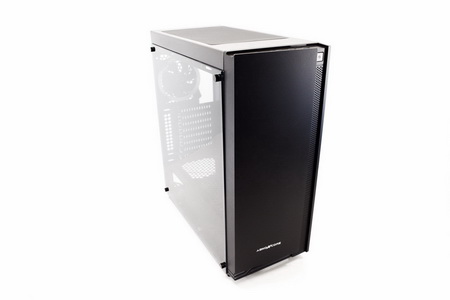 The Cylon Pro is a medium sized mid-tower that measures 480mm in height, 400mm in depth and 205mm in width.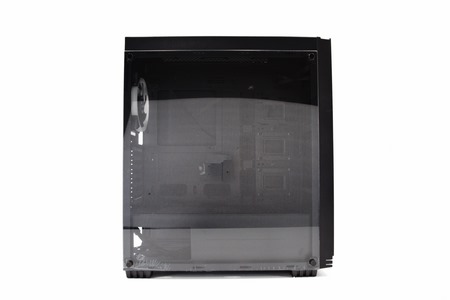 As already mentioned, the entire right side panel is made out of tempered glass held in place via 4 thumbscrews.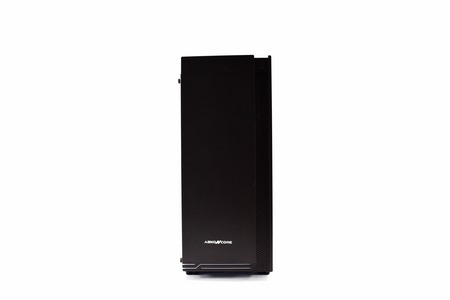 The fascia is made entirely out of ABS plastic and has a RGB LED strip at the bottom.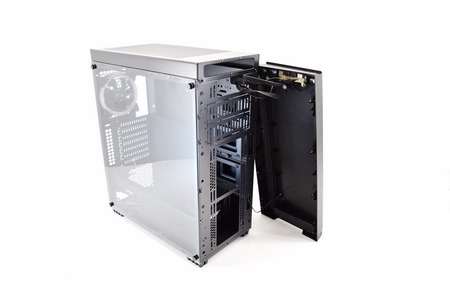 You can remove the fascia by pulling it from its base to access the interior fan/radiator area.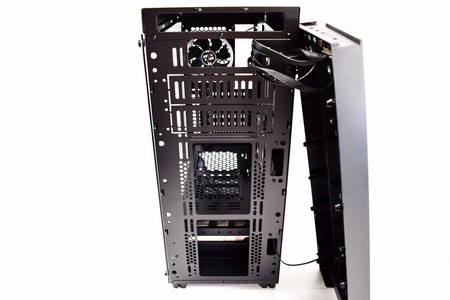 Here you can mount up to three 120/140mm fans or a 240/280/360mm radiator (from the above picture the front seems to have been designed to accommodate two 5.25" drives instead of a 3rd fan).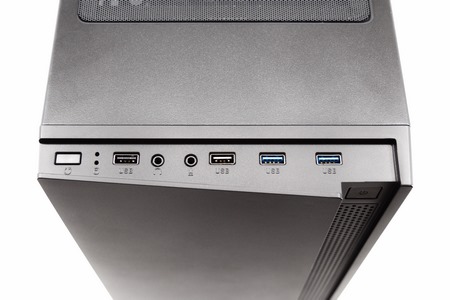 The I/O is located at the top of the fascia and includes the reset button, power and HDD activity LEDs, two USB 2.0 ports, headphones and microphone 3.5mm ports, two USB 3.0 ports and the on/off power button (located at the front of the fascia just beneath the I/O).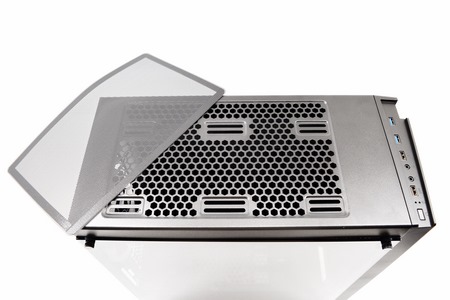 Most of the top area is covered by a magnetic air-filter beneath which you can install again either two 120/140mm fans or a single 240/280mm radiator.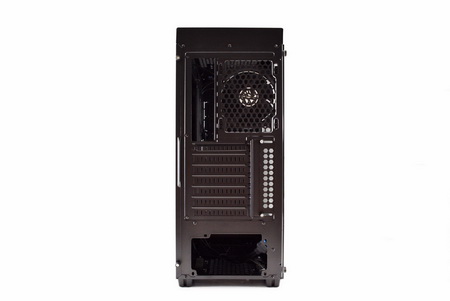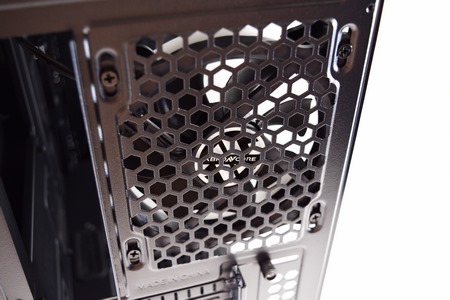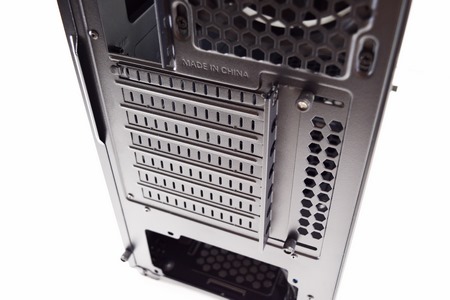 Moving at the rear of the case we find the 120mm auto ring spectrum RGB exhaust fan, 7 PCI expansion slots with a removable cover and the PSU area.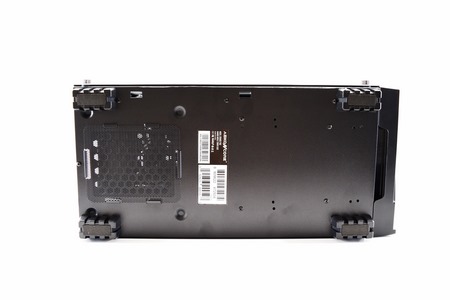 At the base of the CRONOS 710S we find a removable air-filter right under the PSU area (not a magnetic one).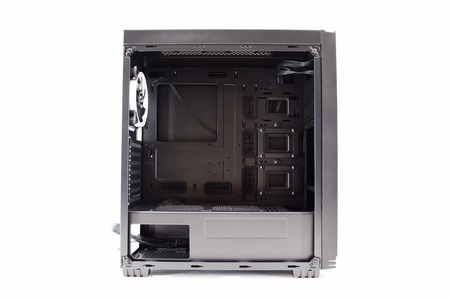 Thanks to the lack of left side drive cages the CRONOS 710S seems to be doing very well in terms of interior space.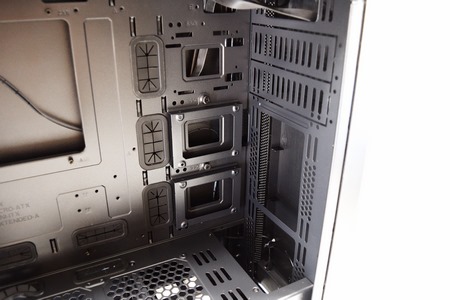 At the front we see the radiator mounting area and two 2.5" vertical drive trays (2.5" mounting holes are also placed on the mainboard tray so you can also mount up to 3 drives on the other side).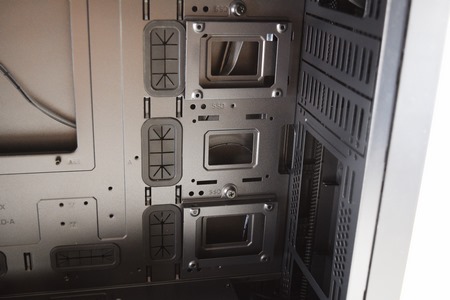 There's a third mounting area for a third 2.5" drive tray (optional) so you can move one of the two pre-installed ones to that area.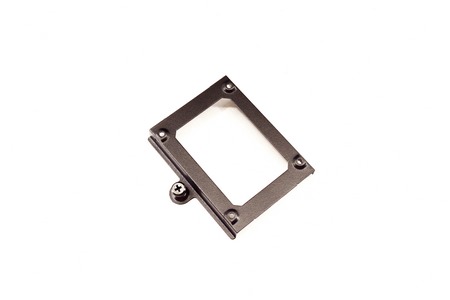 These small trays are made out of steel and are very durable.
The PSU shroud has a small opening at the front from where you can see the PSU and two 120mm fan mounts at the top.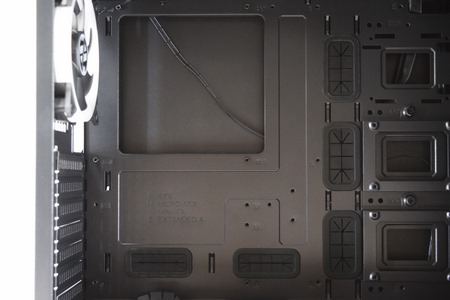 Even though the mainboard tray has 5 rubber grommets there are also 2 on the PSU shroud.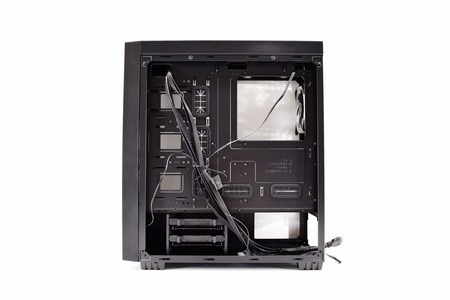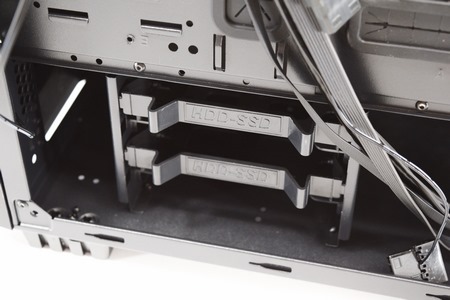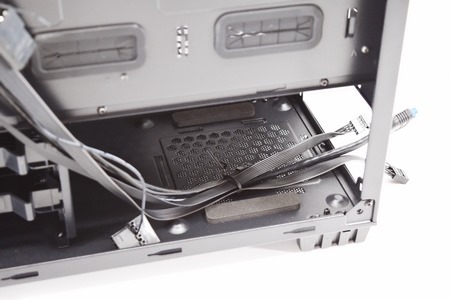 Turning the CRONOS 710S around we see two 3.5" drive trays and the PSU area.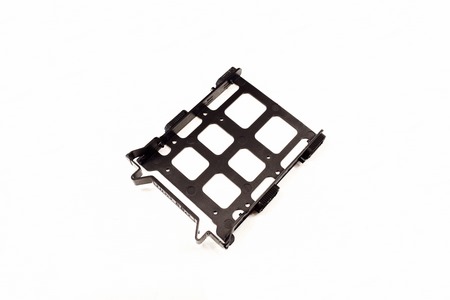 The drive trays inside the cage are made out of plastic and can accommodate 3.5/2.5" drives.
As always, the purpose of this section is not to build a functional system but rather to showcase what you can expect from the case at hand in terms of interior space.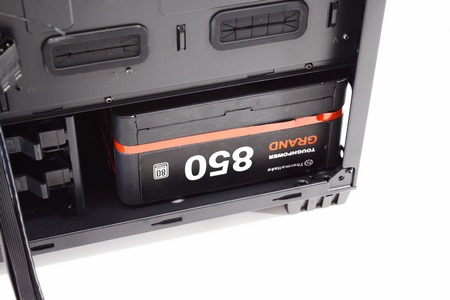 Just like with most recent PC cases we started this build from the rear and as you can see the CRONOS 710S has just enough room for up to 850W-1KW models (205mm in length).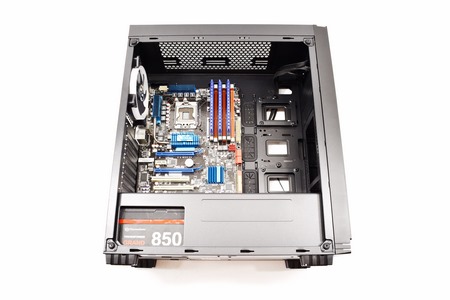 Since the CRONOS 710S is compatible up to E-ATX sized mainboards there's plenty of room inside after we mount our own.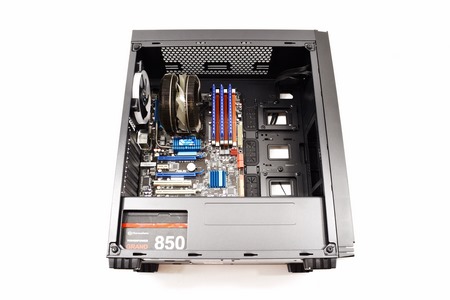 With enough space for up to 165mm tall CPU coolers you should be able to use most models currently in the market.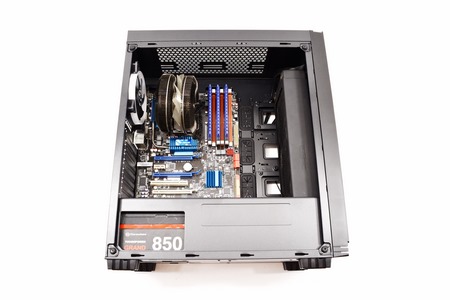 We were quite surprised to see that you can mount up to 56mm thick, 360mm long radiators (ours is 398mm in length) at the front of the CRONOS 710S.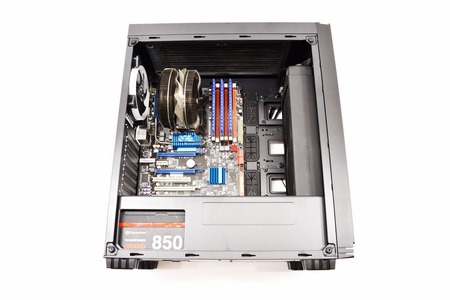 At the top we used a 36mm thick, 280mm long radiator (320mm long in total to be exact) and there's enough room for regular sized fans beneath it (no clearance issues).
Even if you do place a 56mm thick radiator at the front with fans in push and pull there should still be enough room for 300mm long graphics cards.

After giving it much thought we decided on performing noise tests with each PC Case we receive by placing our ExTech HD600 vertically on top of each case to measure the noise levels emanating from the pre-installed fans at both 50% and 100% with the help of a fan controller (if the case doesn't have one, we use our own).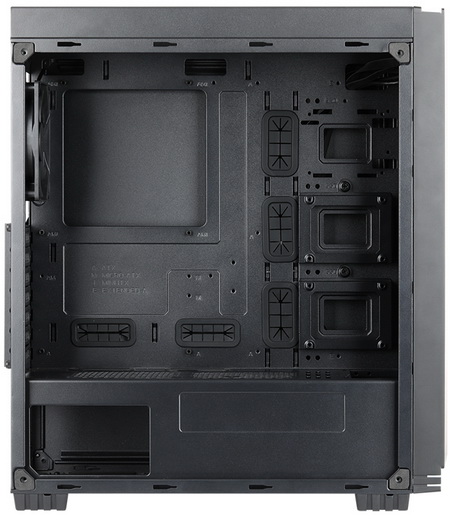 ABKONCORE may not be a familiar name in the PC industry but they do have a wide range of PC cases some of which not only look great and have ample interior space but also carry quite a few interesting features. The CRONOS 710S may not be the top of the line model but it does look good and has plenty of interior space for its size including room for E-ATX sized mainboards, 7 drives, 8 fans and/or 2 radiators, 165mm tall CPU air coolers, 390mm long graphics cards and 205mm long power supply units. Of course it's not perfect so we would like to see a more impressive fascia (the bottom LED strip looks nice but it's somewhat limited), extra RGB fans (just the rear one feels too little) and more space for PSUs (205mm is hardly enough) but like we said the CRONOS 710S is nowhere near to being the top of the line model.

Currently the CRONOS 710S Mid-Tower by ABKONCORE retails for just USD59.99 inside the USA (Newegg.com) and for 51.48Euros inside the EU (Amazon.de) a price tag which is extremely balanced for this particular case. So even though competition at around that price range is rather fierce the CRONOS 710S does hold its own and since we feel it delivers on everything people on tight budgets are looking for, we're giving it our Golden Award.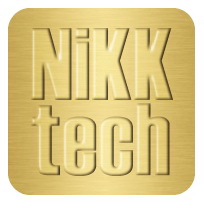 PROS

- Build Quality
- Looks (Tempered Glass Side / Front LED Strip / Rear RGB Fan)
- Drive Mounts (5x2.5"/ 2x3.5")
- Radiator Mounts (240/280/360mm)
- Thick Front Radiator Compatibility (Up To 56mm)
- Space For 165mm Tall CPU Coolers and 390mm Long Graphics Cards
- Top / Bottom Removable Air Filters
- Price (For Some)


CONS